Levoite™ Precision T-Square Ruler Measuring and Marking
DESCRIPTION :
Precision Woodworking Square Guaranteed T Measurements Ruler for Measuring and Marking Woodworking Carpenters - Aluminum Steel Framing Professional Carpentry Use.
FEATURES:

HIGH QUALITY: Made of Anodized Aluminum Alloy Structure, beautiful and durable to use.
MARK PRECISELY: Precision L square , make sure accurate woodworking measuring and marking.
EASY TO READ: Both front and back include scale and hole, you can use both right and left hand.
STABLE YET LIGHTWEIGHT: Including hole positioning design, handly weight, perfect and precision to marking.
METRIC &IMPERIAL TYPE: Draw straighter,more accurate parallel lines in less time than you can imagine.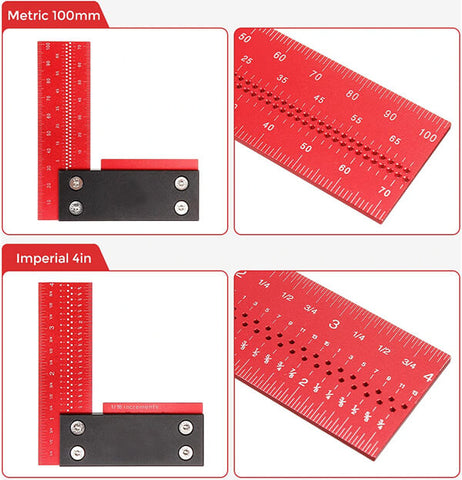 【Metric 】
Length: 100mm/300mm
Hole Distance: 1mm
Hole Diameter: 0.7mm
Scale: Front and back scale

【Imperial 4 Inch】
Length: 4 Inch/12Inch
Hole Distance: 1/16 Inch
Hole Diameter: 0.7mm
Scale: Front and back scale